AnimeRoot why U NDK coverage so Late!?
Okay….so….Well…yaaaaa…about that….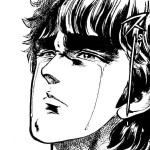 I have made this post late because my house was flooded out during the weekend of NDK 2013 and I have been cleaning, moving, and working on restoring my life back to normal.
Coming home to destroyed memories and collections is very painful not to mention I've got no bed and I'm living out of a suitcase again; It's hard enough to work on this coverage on its own with my day job, but toss in a flood and a natural disaster, well it flat out sucks. I have family and friends in Boulder, they are all okay, but this has been a very trying few weeks. Clean up is a major headache for everyone, I ask for your understanding of our delay in coverage. And not all is bad, I have been slowly working on coverage and some of that coverage will be going up very soon, as I write this the Gallery has been uploaded and the AMV's have been gathered and the footage from interviews is being edited. Granted I'm working on a dinner table as I write this I'm trying to get caught up on writing & editing.
Protip: Follow us on Facetubes – Those who follow us on facebook already know what's up with the delay.
Continue reading →